Cross-Stitch Horse
I designed this years ago, along with many other horse motifs, but I was always too paranoid to put them on the web. An online contest called Illustration Friday caused me to change my mind :-) If you have questions or would like a symbol pattern, please email me at calzephyr AT gmail DOT com.
You will need:
Aida cloth
Tapestry needles
Scissors
This pattern is small enough to be sewn without a hoop or frame, but you may use on if you like. If you are new to cross-stitch, these instructions will help.
I used two plys of DMC floss on 18 count Aida cloth for the model. The model isn't finished and is currently MIA, so I can't show it to you :-)
I don't currently have a colour key for the image. I know I picked a very light blue for the sky, and a medium value green for the grass. I know I used the 433 colour family for the horse - take the darkest shade for the darker brown and two shades light for the rest of the body. Of course, you can always choose your own colours and personalize it. French knots make great dapples! I used ecru on the fence and backstitched around it in black.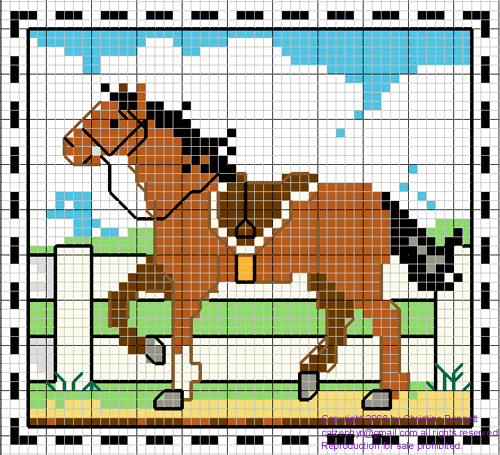 Please note that I reserve all rights with my pattern. It cannot be reproduced in any collection, paper or digital, website or CD without my permission. If you do complete this, a link back would be much appreciated! If you really like my pattern, please consider a little tip through PayPal.